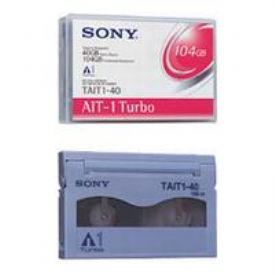 SONY Data Turbo Cartridge 40-104GB AIT1
Since AIT was introduced into the market in 1996, Sony had been employed AME (Advanced Metal Evaporated) tape technology. 100% pure cobalt is evaporated and deposited directly on the base film for high magnetic flux density and coercivity. Above the magnetic layer is the though DLC (Diamond Like Carbon) protective layer and high-performance lubricant coating. With this proven AME technology, Sony has developed new AIT Turbo media for cost effective solutions while keeping reliable AIT characteristics. AIT Turbo media can only be used with an AIT Turbo drive.
AIT Turbo series offers capacities from 20GB to 40GB native and 52GB to 104GB compressed for effective cost performance. AIT Turbo reflects technical excellence, which Sony has proven with its reliability since AIT was introduced as a high and mid-range solution in 1996. AIT Turbo offers new performance and capacity options to supercharge backup.
Features
* AIT-1 Turbo Format
* 64Kbit MIC
Specification
Capacity Compressed 104GB
Capacity Uncompressed 40GB
Drive Compatability AIT1 or 2 Turbo Drive
Drive Transfer Rate 6MB/s
Tape Length 186m
Tape Thickness 6.6µm
Tape Type AME
Tape Width 8mm
Operating Temperature 5 to 45°C
Storage Temperature 5 to 32°C
Depth 1.5cm
Form Factor AIT-1 Turbo Media
Height 6.25cm
Weight 0.074kg
Width 9.5cm