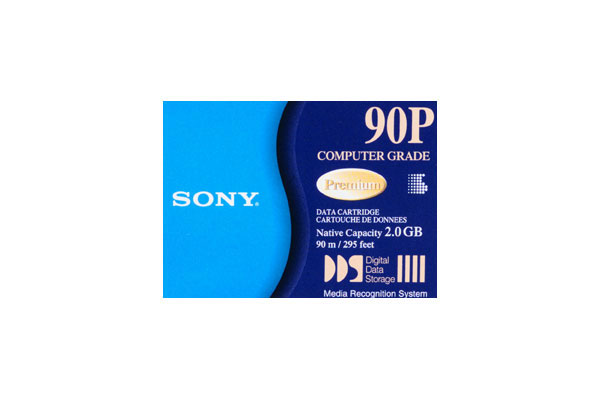 SONY 2-4GB 90M DDS-1 TAPE DG90P
Now you can store up to 4GB (compressed) in a tiny DDS1 cartridge. Sony continues to lead the industry, developing and marketing a full range of DDS format cartridges: DDS1, DDS2, DDS3 and DDS4.
Key features
* Compact convenience. DG90P records up to 2GB (native) in one tiny cartridge. Derived from the helical scan technology developed by Sony.
* Compatible with DDS1, DDS2, DDS3 and DDS4 drives.
* Poly-Ethylene Naphthalate (PEN) boasts excellent physical and mechanical properties for improved strength and elasticity.
* HDA (High Density Alloy) - metal particle technology with improved crystal structure & corrosion resistance.
* HDA technology assures lower error counts & high archival stability.
* Advanced Oliglomerless Binder System featuring more long polymer molecules and fewer short oligomers, creating a structure which is much more durable
* High Cross-linkage (HCL) Binder System offers improved dispersion, higher recording density and optimised recording layers for exceptional reliability
* MRS (Media Recognition System). This automatically detects the format of the tape to maintain high reliability and compatibility.
* Sony's RDP Mechanism sandwiches the tape between textured sheets to help maintain smooth tape winding.