SERVICES TAILORED TO MEET YOUR NEEDS
Allaw provides board level repair or module replacement services for a broad range of products. All items received are Re-certified by the manufacturers approved process. This re-certification process enables us to provide an Extended Service Warranty on all products returned to Allaw for repair.
Allaw provides serial number tracking of each item received. This allows us to provide Warranty or Service contract tracking for our customers and to provide invoicing against particular accounts as specified by our customers. Allaw can even invoice the consumer directly and accepts payment on major credit cards.
Allaw provides a "One Stop Shop" for all of our customers repair needs. Using the rules established by our customers, we provide an Exchange service, Repair units on site, or Managed Returns to other vendors on your behalf.
No place to store spares? No problem! Allaw have strategically located our facilities to enable us to meet almost any customers storage requirements for spare equipment. With a single call to Allaw we can draw from a local pool of spares and have the Replacement Shipped the Same Day!
Worried about your service costs? Allaw uses an advanced software system that has been designed to Track Warranty and Service costs Allaw can load your warranty and service commitments onto our system; when items come in, Allaw will ensure that the service costs are appropriately allocated to warranty, a service contract or charged to the customer. Reports on the status of the items and your service costs can be delivered to you via e-mail on a regular basis or on-demand, as you need them.
Order Configuration and Consolidation
Often customers require local order consolidation and configuration. Equipment received in Australia from multiple overseas locations and combined with locally purchased materials to support a project or where the Australian customers logistics specifications cannot be accommodated at the suppliers overseas point of distribution, Allaw can deliver the Local Consolidation and Packaging to meet any project or customers specifications. All equipment received is tracked by Serial Number and Bar Coding can be added to consolidate shipments by item, box, pallet or any manner required to suit the delivery requirements.
Software Configuration - Functional Testing
In this age of increased pressure to deliver improved service at lower costs, our customers can no longer take the risk of equipment untested and not being properly pre-configured arriving at a site ready for installation. Allaw provides Data and Software Pre-configuration of equipment prior to the final stage of shipping. In many cases this process can also be adapted to provide Functional Testing or "Hot Staging" of equipment to delivering an added level of assurance that equipment being shipped to remote locations will have all of the parts and will be operational when it arrives at site for installation by the field staff.
Allaw have adapted this process to manage Software, Firmware or Hardware Upgrades where it is not practical to perform upgrades in the field. This has proven to be an effective mechanism to rotate a pool of seed stock through the upgrade process; minimizing the on-site time of field engineers and improving overall upgrade quality performance.
All equipment received is tracked by serial number to ensure any follow-up activity has all the information required to track the item and its history. Where functional testing is provided the equipment can be re-certified and an Extended Warranty provided.
Technical Support - Help Desk
Are your customers tired of not being able to speak the engineers who really know the product? Allaw provides Technical Support and Help Desk service for abroad range of the products that are serviced in our facilities. This service is ideally suited to support Field Engineers and IT professionals who require the detailed information and product expertise to configure, test and trouble shoot equipment minimizing downtime and getting the systems up and running as quickly as possible.
New vendors to Australia and new start-up operators need focus their efforts on their core business and developing their business opportunities not being hindered by how to implement delivery or support procedures. Our operations staff is skilled in establishing and delivering the services required to Jump-Start the Operational Requirements of the business with Minimal Investment in process development. Buy utilising our established core competencies and overlaying additional requirements onto our current business, working operational processes can be implemented and functioning in a matter of weeks rather than months.
Do you have a business with Existing Service Issues? The professionals at Allaw, experienced in delivering support solutions can work with you to Plan and Implement a Cost Effective Solution targeted to meet your business needs

SERVICE PLANNING

PRODUCT LIFECYCLE SUPPORT
Allaw provides our customers product support throughout the product life cycle. From the first introduction of a product into the market, throughout the sales cycle and after the warranties have expired, Allaw provides the ongoing requirements to meet customers service needs. MANAGED SOLUTIONS
In today's business environment, all of our customers are realising the importance of focusing on their core competencies; operations and reverse logistics issues draw energy and resources that can better be utilized delivering customer solutions. Allaw provides a complete portfolio of managed services that are available to meet short and long-term customer needs.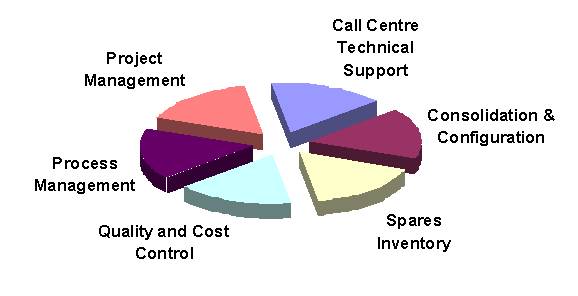 Many of our customers have been able to focus their efforts on their core competencies by utilising Allaw to deliver operational services or our consultant skills to resolve operational issues. Whether there is a need to track spare inventory, to establish a repair process, or simply to consolidate a shipment of goods to a customer site, our operations teams are experienced and well equipped to handle any challenge in this area.